About the Southern Vermont
Primitive Biathlon
Event site opens at 8:30 AM and shooting competitions will be held between 9:00 AM and 3:00 PM on Saturday and 9:00 AM and 2:00 PM on Sunday.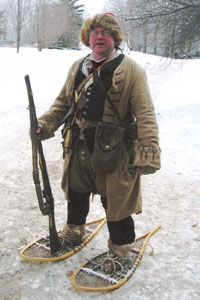 The Southern Vermont Primitive Biathlon is a Winter Shoot that combines physical endurance with marksmanship. Unlike modern Olympic biathlons – in which the participants use cross-country skis and high tech rifles – the "primitive" competitor travels on wooden snowshoes and fires at targets using black powder riles or muskets.

The Southern Vermont Primitive Biathlon is open to all muzzleloading firearm enthusiasts, regardless of their skill level or athletic ability, and we do offer a separate class for in-line muzzleloader enthusiasts as well.

There is no shortage of fun for casual, noncompetitive participants. The course itself is very scenic and enjoyable.

The event will consist of four target shooting areas throughout a mile and a half course. The first three shooting areas are in a scenic woods setting with participants loading and shooting two shots within each area from the standing off hand position. All participants are to follow a marked trail. In the last area, which is in a field setting and open to spectators, participants will fire 3 final shots.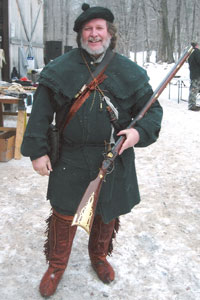 All nine shots will be on the clock and fired at 6-inch square hanging steel targets at ranges under 50 yards (inline class target size and distances may vary). A total of 5 minutes will be deducted from the overall running time of a participant for each target that they hit.

The last target station is in an open area where families of the participants or anyone interested can watch. This makes for a fun winter family outing. Spectators are asked to observe the instructions of the event officials at all times.

Additional competitive shooting events, such as our "Absolute Marksman" "King Of The Hill" and "5 Card Draw Shoot" may also be taking place throughout the day. Inquire with organizers the day of the event for specific details.

The event will be held regardless of weather. If there is insufficient snow for snowshoes, participants may wear boots.

Awards are presented to the top 3 competitors within each class and multiple door prizes will be raffled off each day. Multiple entries for the biathlon portion of the event are accepted however you must pre-determine which score you would like to count before your second run begins.

Spectators are welcome and encouraged to view portions of the course as well as the additional shooting competitions. Spectators should observe all safety instructions and remain in designated areas only. Food and merchandise vendors will be on site offering concessions.

Period dress is definitely encouraged but not mandatory. Keep in mind, although the SVTPB is a two day event, it is certainly not mandatory that shooters compete both days.
Hope to see you!
Other Primitive Biathlon Events:
21 January, 2018 - Shandaken Primitive Biathlon - Oliverea, NY
27-28 January, 2018 - Lamoille Valley Primitive Biathlon - Morrisville, VT
10-11 February, 2018 - Southern Vermont Primitive Biathlon - Manchester, VT
17-18 February, 2018 - The Dalton Gang Primitive Biathlon - Dalton, NH
24 February, 2018 - Wabanaki Run Primitive Biathlon - St. Johnsbury, VT
3-4 March, 2018 - St. Lawrence Valley Primitive Biathlon - Lisbon, NY
4 March, 2018 - Cheshire County Primitive Biathlon - Keene, NH
Additional primitive biathlon information can be found here.